By Saidu Idris
365Daily– The Nigeria Railway Corporation (NRC) has stopped services on the Abuja-Kaduna route following a bomb and gun attack on the train by bandits.
Officials of the corporation have confirmed that the incident occurred on Wednesday night, October 20, 2021.
The NRC said on Thursday, October 21, that services on the route had been halted in a message to its passengers on the service's app.
It added that investigations were ongoing to determine if the facility was actually bombed as widely speculated.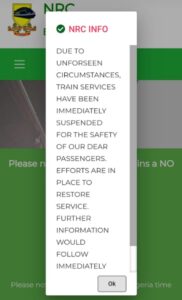 0
In a narrative of what transpired, former Kaduna Senator, Shehu Sani, disclosed on his verified Twitter handle how the bandits attacked the train on Wednesday en route Kaduna form Abuja.
Sani tweeted: "Yesternight (Wednesday) bandits attacked the Kaduna-Abuja train. They planted an explosive that damaged the rail track and shattered the wind shield of the train engine. They also opened fire, targeting the driver and the tank.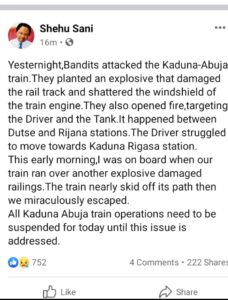 "It happened between Dutse and Rijana stations. The driver struggles to move towards Kaduna Rigassa Station. This early morning, I was on board when our train ran over another explosive damaged railings. The train nearly skid off its path then we miraculously escaped. All Kaduns -Abuja train operations need to be suspended for today until this issue is addressed."
Also confirming the incident, the Abuja/Kaduna Train Service Station Manager, Paschal Nnorli, said there was an attack on the train, but could ascertain what was used.
He stated: "Yes, there was an attack, but right now I cannot confirm if it was an explosive or bomb attack as people are saying. Investigations are ongoing and I'll give you updates as they come in. Out engineers have been mobilised to the area. And right now we have suspended services."