By Sylvester Asoya
(Okey Ogunjiofor, the maverick producer of Living in Bondage, one of the flicks that changed the Nigerian movie industry, returns with Amina, a historical film)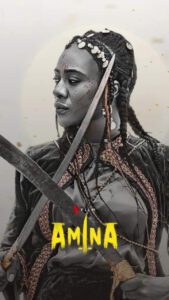 His fans think he is a history maker. In a way, they may not be too far from the truth given his proclivity to be daring and innovative. He is also known in Nollywood, Nigeria's movie industry, for breaking new ground with his courage and unique creativity. But Okey Ogunjiofor is more than a producer of great movies. Apart from coming from a family where creativity flows, he is also creating his own world as a writer, poet, actor and producer with strong political believes.
In 1992, Ogunjiofor produced Living in Bondage and joined a new generation of filmmakers (pioneers and innovators) who took movies directly into the living rooms of many Nigerian homes. Before then, movies were restricted to cinemas, its natural home, where people went to see films as individuals or groups.
For many, particularly young people who may not fully appreciate the evolution of cinematography in Nigeria, films were previously made and preserved exclusively on celluloid for the cinema. Therefore, filmmaking before Living in Bondage was generally seen as elitist, complicated and expensive in nature. It also excluded those without the necessary financial muscle. But everything has changed. Gone are the days when movie making was the exclusive preserve of the strong.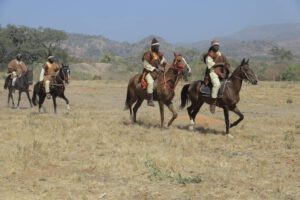 So, Ogunjiofor fully appreciates what it means to be creative and unable to produce because of the impediments to free expression. According to him, many people like him who wanted to make movies at the time, could not live their aspirations for some reasons.
"Poor people like us who read film could not make films because we had no contact abroad, no equipment, no sponsor, no grant or loan to pursue our dreams. Then out of necessity, we decided to recreate filmmaking and made it pocket friendly because we believe that even the poorest camera can still tell stories, though the quality will be different".
Therefore, this producer and others like him, employed VHS to tell their stories and by so doing, circumvented celluloid and the convoluted journey to cinemas. By reversing the old tradition of movie making, films became available, affordable and all-inclusive. The era also changed the creative scene, brought more jobs for people in front or behind the camera, created opportunities for creative expression and gave birth to a new generation of daring filmmakers.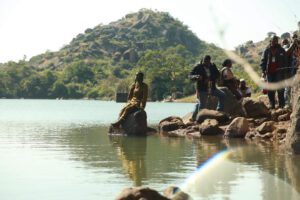 Now, Ogunjiofor is back to the big screen with Amina, a twenty-five-year project that stretched his limits as a script writer and producer. Ironically, Amina was inspired partly by Mrs. Maryam Abacha, wife of Nigeria's dreaded despot, Sani Abacha. Mrs. Abacha who was one of the first ladies that attended the famous Beijing Conference of 1995 in China, returned with a burning desire to push for girl child empowerment and gender equality, both in decision-making and representation.
It was at this point that her path crossed with Ogunjiofor whose position and proposal to the first lady, re-emphasized the strength and power of the African woman who, obviously did not need the global agenda for women's empowerment from China.
After all, Amina, the powerful African woman of Zazzau, a city-state, was not only a ruler and historical figure but also a girl child, warrior and legend.
Amina is a story of female power and purpose in a patriarchal world where laws and conventions sometimes limit women's economic and political opportunities despite their innate ability. The film is therefore not only a validation and a reminder of what women are made of but also a tale of identity and triumph.
The making of Amina was a daunting task. Apart from the endless and extensive travels and engagements across Nigeria's northern states, the producer and his researcher also visited museums and archives for perspectives. They interviewed 13 Emirs, professors of history, custodians of culture and everyone with information on Amina's extraordinary life as a woman of substance.
There are also other impressive sides to Amina like the casting, locale, filming, editing and other film techniques like sound, lighting, music and camera angles. Luckily for Ogungiofor and his production crew, their work has passed all the necessary tests. And it is already a subject of international attention, and this is very good for Nigeria and her movie industry especially at a time like this.
Ngozi Emedolibe is a literary journalist and author who knows his way around Nigeria's movie industry. "Amina's impact on Nollywood is phenomenal. I don't know how Ogunjiofor does it, but his creative efforts are usually a link to new grounds for the film industry. What his Living in Bondage did to the industry is being repeated by what Amina is doing on the global film scene.
Amina is currently ranked Top 10 on NETFLIX globally; a feat no Nigerian production has achieved. I give kudos to the team: Ogunjiofor, Sola Ojewusi, Izu Ojukwu, Clarion Chukwurah, Lucy Ameh and others for this success story cooked with a broth of patience, resilience and knowledge. It is a proof that more biopics are needed to enlighten the world about African heroes and heroines".
Without a doubt, Ogunjiofor actually set out to prove a point with Amina, and this is important. He clearly wanted to alert the world that before the so-called modern civilization, African women had ruled and led demonstrations and revolutions across the continent and even beyond. This is very important, and the earlier Africans come to this consciousness, the better for the troubled continent.
Surely, the producer has done well with this definitive work. It is interesting to note that Amina is also validating the fact that film as a means of creative expression is a powerful medium of information, mobilization, conscientization, education and entertainment.
Therefore, it has the capacity to serve the common good and filmmakers like Ogunjiofor should take full advantage of this by using their knowhow to do more. Film producers should also deploy their knowledge in drawing attention to poor governance, oppression, discrimination and the decrepit state of public infrastructure that are common sights everywhere.
Movies can also galvanise society, revive our culture, address declining moral values among the youth and inform young people about Africa's glorious past that our leaders and history books are currently shying away from. Undeniably, movie makers hold the key, and they must carefully and judiciously work for the betterment of society. And the time for that all-important work is now.
• Asoya is a senior journalist and prolific art writer.