Gareth Bale has announced that he will be taking part in a PGA Tour event at Pebble Beach a matter of weeks after retiring from professional football."
The 33-year-old, who represented Wales at the World Cup finals in Qatar and helped LAFC to MLS Cup glory in 2022, revealed on January 9 that he would be hanging up his boots.
Bale walked away as a club legend at Tottenham from his two spells in north London and as a five-time Champions League winner courtesy of an eventful nine-year stint with Real Madrid.
Across his career, Bale never hid his penchant for playing golf and it has now been confirmed that he will be taking part in the AT&T Pebble Beach Pro-Am event alongside the likes of US Open winner, Matt Fitzpatrick and 156 amateurs that will include several celebrities.
Bale has said on Instagram: "Delighted to announce I will be playing in the AT&T Pebble Beach Pro-Am at the start of next month! Let's go."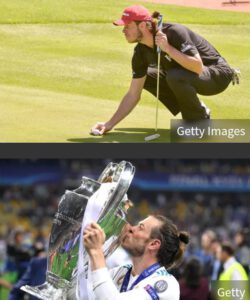 Bill Murray, Jason Bateman and Macklemore will be among the other amateurs on show at an event in California that carries a hefty prize fund of $9 million (£7m).
Bale will be hoping to catch the eye after trading football clubs for golf ones, with the former full-back and winger – who earned 111 caps for Wales – previously saying of a pastime that he can now focus more attention on: "Football is my No.1 sport. I'm paid to do it and I always give my best. Golf is a hobby like anyone else would have a hobby. There is nothing wrong with having a round. People make a lot of it, but a lot of footballers play and it's one thing I really enjoy."
-goal.com