Will there ever be an end to the Abacha cash being released to Nigeria? Are their accomplices who are still alive? And will we ever get details about how the cash was stashed abroad? 
By Olukorede Yishau
I ask myself this each time a new Sani Abacha loot is released by a country in the West: Is it a bottomless pit? The recent Abacha loot released to Nigeria, 24 years after his death, reminded me of a trip to Kano ten years after his death. I had freshly joined The Nation as a Senior Correspondent.
I remember discovering that Gidado Road, Kano, where his family house is, is not just any kind of street. It is a street that has snatched for itself a chapter in the history books. Adorned by very beautiful but few structures, with trees lining both sides of the road, this street on an ordinary day is as quiet as the graveyard.
When I visited, birds hopped from one tree to the other and chirped in tones incomprehensible to the human mind. When I visited, only security aides were seen outside holding noiseless courts. Intermittently, domestic hands too strayed out for one purpose or the other. Motorcyclists too zoomed by from time to time.
The day I visited marked the tenth anniversary of his death. His remains were interred in the house after he died in circumstances that are still shrouded in mystery and controversy.
The family was organising a prayer in his honour. I remember Hajiya Maryam Abacha, his widow, saying members of the family are missing him.
The prayers were seen by the family as part of continuous supplications to God by family members, friends, associates and admirers of the late ruler for the repose of his soul.
Preparations for the day started not less than one month earlier. For weeks, friends and well-wishers of the family had been up and doing to make the day a memorable one.
From Kaduna, Kano, Abuja, where his two eldest children, Mohammed and Zainab lived with their families, Lagos and even outside the shores of Nigeria, the guests were expected to troop in. Some even returned home from their sojourn abroad some days earlier to be part of what an aide called D-day.
"If you come here on Sunday, the whole place will be jam-packed. That is why the car park is being prepared to ease congestion of the road. Guests are expected to use the car park," said the aide.
When I visited the street, the house was glowing in light brown colour. The high wall, which shields the building from prying eyes, were being re-painted white, with dark brown tints here and there.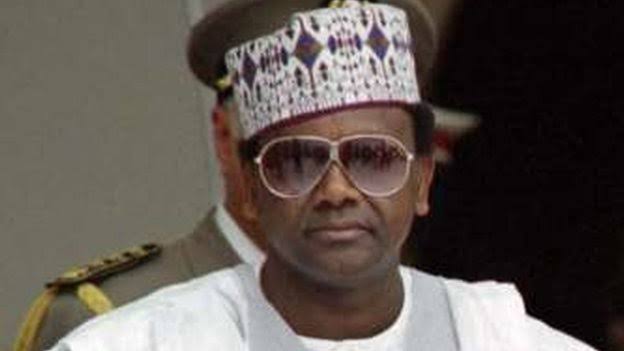 The car park opposite the building was also undergoing major repairs. Interlocking blocks were being fixed on the floor of the gigantic car park, where the friends and well-wishers of the former Head of State were going to park their state-of-the-art automobiles.
The many trees on the road, and on adjoining streets, also wore new green, white, green colour. Even some electric poles had green, white, green painted on them, symbolising the Nigerian flag. The wall of the car park, which was painted green, white, green, had also been renewed.
Before Abacha's death, Gidado Road was a heavily-militarised street. That is no more. Now, even okada riders could drop a visitor in front of the house. Only a handful of soldiers still watched over the house in deference to his status as a former Head of State when I visited. The Arabic school on the street named Modarasatul Mohammed Sani Abacha also wore new look, all in preparation for the prayers for the repose of the soul of the late Head of State who, despite the negative opinion many had and still have about him, many in Kano still had his image in the form of stickers pasted on their motorcycles or cars. One of such stickers was on a white Honda Accord car parked on 17, France Road, near the Kano office of the News Agency of Nigeria (NAN). This particular sticker still recognised him as 'Head of State and Commander-in-Chief of the Armed Forces', ten years after death took that title from him.
The stadium named after him and the road also so named still give the impression that the man is still alive. But, as the guests gathered, with some of them wearing t-shirts and fez caps with his image on them, his place in history was still a question many still talked about.
This probably informed his wife's outburst during that week that her husband did not steal money as being alleged. She told a press conference she called on the event marking the tenth anniversary that the allegations against her husband were not true. She also said the family continued to enjoy good relationships with many Nigerians and thanked the people for their support.
As if puncturing her claim, Mr. Fabio Baiardi, the Charge D'Affaires at the Embassy of Switzerland in Nigeria, said the country had returned $505 million the late Head of State stashed away in Swiss banks. He gave a breakdown of the returned monies; a first installment of $290 million transferred on September 1, 2005; a second installment of $168 million transferred on December 19, 2005, and $40 million transferred at the end of January 2006.
He said $7 million was transferred into a 'blocked account' in Nigeria, as the Swiss government could not identify its origin, adding that the money was still in the blocked account.
At the time, data released by the United Nations Office on Drugs and Crime, and the World Bank, under a new initiative called the Stolen Asset Recovery (STAR), also confirmed that $505.5 million had been returned by the Swiss authorities being money stolen and stashed away by the late Abacha. 14 years after, more is still being released.
For Alhaji Sule Hamman, who worked closely with the late Head of State in different capacities during his life time, the late Head of State was just largely misunderstood. Hamman told me during my visit that he personally felt bad when bad deeds were attributed to his former boss. "I believe people who say that do not know him. Certain acts of misdemeanour were carried out in his name and like every leader he is blamed for it. I believe 85 percent of the things he is said to have done are not true," Hamman said.
According to Hamman, who was the late Head of State's Political Adviser, Abacha exhibited tremendous desire for unity and development of the Nigerian nation. He described his former boss as a simple man with great humility. He was a man with human feeling, a man who enjoyed jokes with people he had confidence in and, as a leader, he was very concerned about those working with him and their welfare.
He narrated an experience when the late Head of State came to visit him one evening after he had an operation on his thigh. "When he was told I had an operation on my thigh, he came to my house around 5.30pm and spoke with me and my family."
In the view of a former chairman of the Kano Chambers of Commerce and Industry, Alhaji Abdulkadir Daiyabu, it is not true that Gen. Abacha is misunderstood. Daiyabu, who was the president of the Movement for Justice in Nigeria, told me that "our leaders are our greatest enemies."
According to him, Abacha, through the Petroleum Trust Fund (PTF) was able to do a lot in education, health, and job creation and so on; but that unfortunately former President Olusegun Obasanjo's probe led to the discovery of the much-talked about Abacha loot. Asked to comment on the legacy of the late Abacha, Daiyabu said that 'he left a very bad legacy for us in the North and especially for those of us from Kano who are now seen as looters, not minding that we also suffered under his regime. People still talk about Abacha loot and indirectly they are talking to us."
My final take: Will there ever be an end to the Abacha cash being released to Nigeria? Are their accomplices who are still alive? And will we ever get details about how the cash was stashed abroad?
• Yishau is a newspaper columnist and author.