The power given to a man is the principle of Public accountability and I am a living spirit of ideology
VALEDICTORY ADDRESS BY OUT GOING PRESIDENT ROTARY CLUB OF PH CENTRAL RTN CHIEF ENGR. JOHNBOSCO OBINNA ONUNKWO (MAJOR DONOR)
Fellow Rotarians and guests, it is a great pleasure to welcome you to the installation ceremony of Rtn High Chief Emeka Colman Anyaso and the launching of our community service projects for 2014/2015 Rotary Year.
As a President and very young Rotarian, having x-rayed the hydra-headed activities required to successfully engage Rotary and Change lives this ending Rotary year, we applied the principle of simultaneous linear equation and the almighty quadratic formula to solve the equation and achieved tremendous result. What a wonderful year it has been, what an honor and privilege it is and has been to be President of such a darling Club, I and we the entire members of Rotary Club of PH Central metamorphosed to DIGITAL LEVEL.
I have loved every minute of the past one year I presided over this Club and I will miss being your President except my principle of present continuous tense applies. Today we will be having a very busy programme, hence I need not bore you with my long verbosities and verbiages because I am mindful of that Rotary classical moment  Past president are like old sand shoes  the bodies are all worn out,  but the tongues just wangling"
The power given to a man is the principle of Public accountability and I am a living spirit of ideology"
That Rotary club of Port Harcourt Central was well celebrated last Rotary year, is the result of its Omoku resolution in 2011/2012 Rotary year, where the club agreed on a three year strategic plan and the implementation was in my year.
Permit me to mention to us the following achievement and awards we got this ending Rotary Year.
Club Administration
Payment of first semiannual RI and District dues in the first week of July 2013.
Production of weekly bulletin as at when due.
The club currently has a functional website
Attendance report sent every month to the District.
Presentation of gift to members that have 100% attendance in first and second quarter.
Prompt reporting of membership attendance to the district.
Monthly dinner and celebration of members & Spouses birthdays and marriage anniversary.
Family of Rotary fire side, an event that brings all Rotarian families together. This event was hosted by our own AKS Mark Emmanuel and it was colorfully made.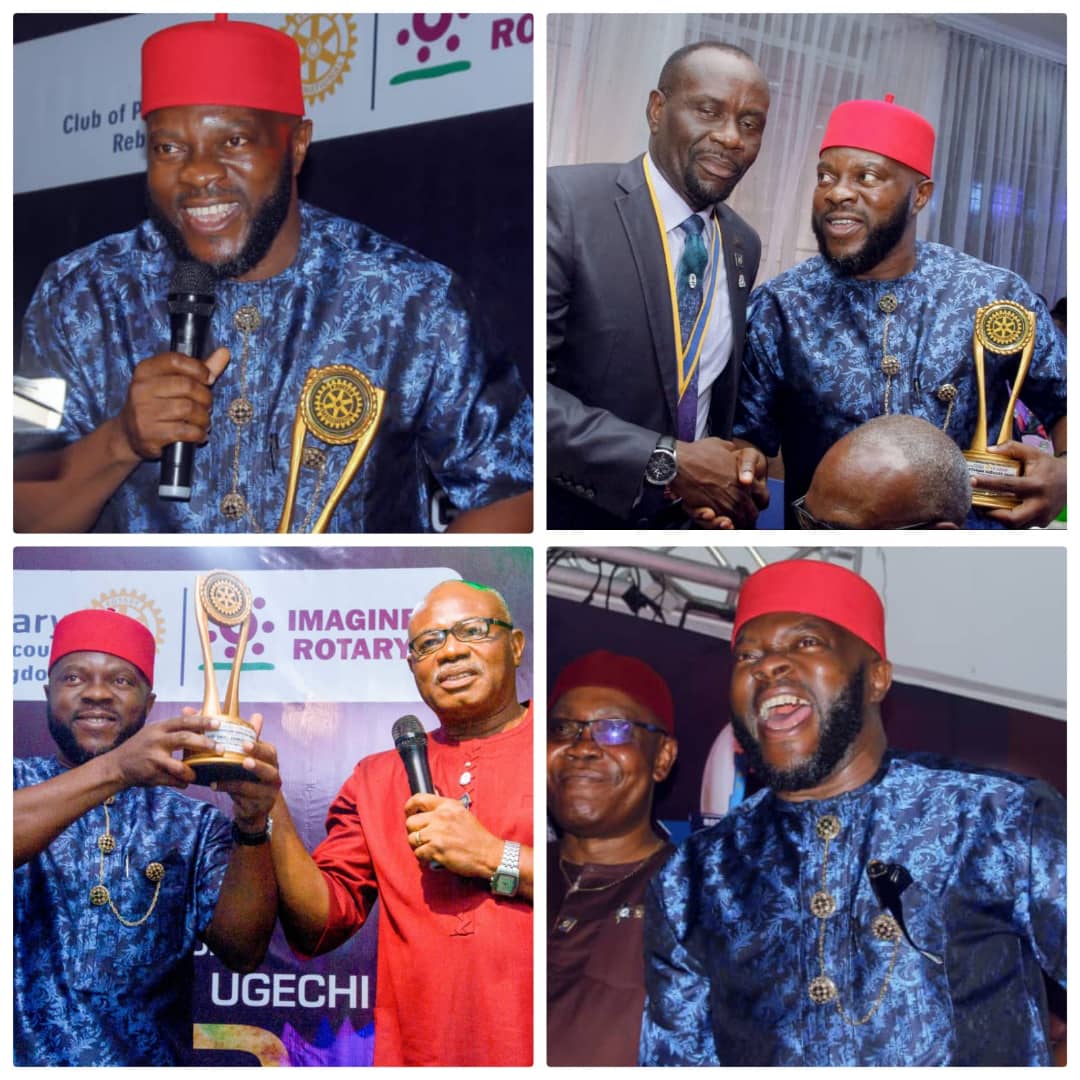 MEMBERSHIP DEVELOPMENT & RETENTION
The club inherited 26 members as at 1st July 2013
We inducted 15 NEW MEMBERS.
Reinstated 3
We lost 1 member by death and we delisted 1
We currently have 43 members as at 30th June 2014.
ROTARY FOUNDATION
The Rotary Club of Port Harcourt Central contributed to Rotary foundation  one  AKS, FOUR  Major Donors and one PHF
We constructed four, two face bill boards with Polio inscriptions, these projects are situated in the four major entrances into Rivers State.
We finally attained 100% PHF Club.
YOUTHS SERVICE
Sponsor of Rotaractors to ROTS
Sponsor of Rotaractors to joint membership seminar
Attendance and giving of financial support to our sponsored clubs, club installation
Sponsor of 14 Rotaractors to RYLA
Execution of joint project with Rotaract district 9140
SERVICE PROJECT
We executed projects in the six areas of focus and emphasis
WATER AND SANITATION
Construction of water bole and provision of Generator at Bua -Yeghe community in Gokana Local Government Area of Rivers state.
Also executed sanitation project in conjunction with FCE (TECHNICAL)  Omoku.
MATERNAL AND CHILD HEALTH
We executed this projection in conjunction with El Bene Hospital at Rumuchinda community at mile 4 Rumueme, PH.
We also executed a project on prostate cancer at Abali park, mile one. PH.
ECONOMIC EMPOWERMENT AND DEVELOPMENT
We trained 50 youths on ICT in conjunction with SSCN Technologies.
PEACE AND CONFLICT PREVENTION AND RESOLUTION.
We organized a well attended seminar.
BASIC LITERACY AND EDUCATION
We executed this project at community Boys secondary school, Elelenwo.
DISEASE PREVENTION AND CONTROL
We also executed disease Prevention and Control project in conjunction with El Bene Hospital at Rumuchida community at mile 4 Rumueme, PH.
PUBLIC RELATION
We show case our project in Rotary show case. We published our events in two national Newspaper (SUN & NATION), RSTV and NTA.
AWARDS RECEIVED
At the end of this Rotary Year, we received the following awards out of 113 (One Hundred and Thirteen) Clubs in our District made up of the eleven (11) states in South South and South East of Nigeria.
Rotary International Presidential citation with Distinction in Service project.
Rotary international Presidential citation in Rotary Foundation.
Best Club in Rotary Foundation District 9140
2nd Best Club in District 9140
2nd Best President in District 9140.
3rd Best Club in attendance District 9140 .
100% PHF club. E-Mail already sent by RI
Best club in game challenge within PH Clubs
Special award from DG Dr. Charles Onianwa to the President on Rotary Foundation Contribution.
Best supportive President in Rotaract activities Rotaract District 9140 and the last but not the least.
Best supportive Club in Rotaract activities Rotaract District 9140.
When I look back on our achievements and my achievements this year, it makes my head swell like that of a classical Cicero when he boosted unquote O fonte Nathan, roman Nathan me Consule which means that Rome was fortunate to have been found during his consulship. So am fortunate to be the President of RC of PH Central during this year the club has accerrelated with a cathacrisimic magnitude. It also gives me the assurance that we have successfully engaged rotary to change lives in line with the motto of 2013/2014 Rotary Year.
To my gazette President, I say welcome on line. I have no doubt that that you will make it, knowing very well your leadership qualities and acumen. Consultation is your style, service is your obligation, pragmatism is your star, egaliteearism is your believe, justice is your armor and equity is your reinforcement.
I can assure you of my unalloyed support and that of the entire Club members which I have their individual passwords. ROTARY IS SERVICE ABOVE SELF AND SERVICE IS AND SHOULD BE IN PRESENT CONTINOUS TENSE.
May God guide and protect you and give you the armamentaria to serve in frictionless way as power change from the DIGITAL PRESIDENT TO GAZZETED PRESIDENT.
Rtn. Chief Engr. Johnbosco Obinna Onunkwo (MD, MNSE, MSPE, C.ENGR)
Out Going President, RC of PH Central