I was only there to do my work as a journalist. I am not for or against her and her family. I'll continue to do my job as best as I know as a professional"
By Ife Osemedua
365Daily – A Nigerian broadcast journalist, Rose Peters Graham, has narrated her scary encounter with Mrs Beatrice Ekweremadu, the wife of the embattled former Deputy Senate President, Ike Ekweremadu, at the Central Criminal Court, Old Bailey, United Kingdom.
The Lawmaker and his wife were arrested for sponsoring an underaged Nigerian boy to the United Kingdom to provide a kidney for their daughter, Sonia.
Graham, who has been covering the organ harvesting case involving the Ekweremadu family since the case started over one month ago, told 365Daily in a telephone conversation that Mrs Ekweremadu, who was in the court to support her husband, reported her to the police for allegedly taking her photo with her mobile phone in the court.
According to her: "I was only there to do my work as a journalist. I am not for or against her and her family. I'll continue to do my job as best as I know as a professional. May God continue to protect us as we go about our legitimate duty as journalists!"
365Daily had earlier reported that Senator Ekweremadu would remain in custody till the adjourned date, October 31, 2022.
Graham, a mother of two who is the producer of 'Rose on All Sides', a weekly talk show on BEN TV, London, said the court security immediately detained her and invited the police after Mrs Ekweremadu's complaint.
On arrival, according to her, the police took her phone and searched for the purported photos, but returned her phone and released her when they couldn't find any.
The journalist, formerly a presenter/producer with the Nigeria Television Authority (NTA) in Lagos before she relocated to London, disclosed that she was petrified over the development, as she thought about how her children would cope without her if she had been found guilty and charged with contempt of court.
She later wrote on her Facebook page: "My dramatic encounter with Mrs Ekweremadu.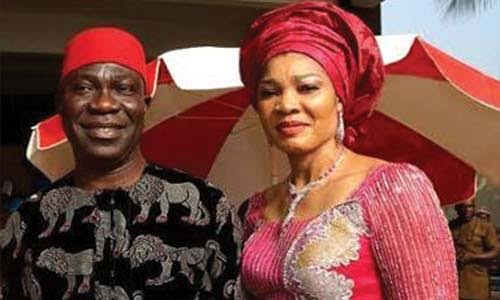 "There was a melodrama today at the court premises, as Mrs Beatrice Ekweremadu, surprisingly reported me to the Police.
"She claimed I took photos of her. So I was held by the court security, till the police came. I handed over my phone for Investigation. It was thoroughly searched. And nothing was found.
"My phone was eventually handed over to me and I was allowed to leave.
"The court has strict rules and regulations about taking photos and other things, which I am aware of.
"Since the court room wasn't very big, not many journalists were allowed in. So I was in constant communication with my colleague, Damilola.
"One of the reasons her counsel gave, why she thought I took the photo was because I was 'hanging around'.
"Hanging around? All the other journalists were there. I even stepped out before the BBC and the Sky reporters. Maybe it was also because I wanted to interview Ike Ekweremadu's new Counsel, Gavin Irwin
"I wasn't upset. And I am not upset at Madam Beatrice because I understand her plight and paranoia.
"I was just only worried about how my children would cope if I was found wanting and held in contempt of court.
"I was only there to do my work as a journalist. I am not for or against her and her family. I'll continue to do my job as best as I know as a professional. May God continue to protect us as we go about our legitimate duty as journalists!"