Many young persons between the age of 25 and 40 live under the illusion that if they are not sick then they are fine.
By Osita Chidoka
A few days ago I wrote about the death of Paeke Dongban Mensem at age 38 in his sleep. I got a couple of direct messages offering suggestions about what could have gone wrong. We may never know what went wrong. I want to use this opportunity to share my thoughts on healthy living and the need for regular medical checks for young people.
Many young persons between the age of 25 and 40 live under the illusion that if they are not sick then they are fine. One thing I learnt early working with Ojo Maduekwe is the fact that the seeds of our long-term health are sown during our youth.
At 51, I have had a good run health wise and pray it continues. I don't know if it is genetic or my active lifestyle, I am yet to lie on a hospital bed or undergo any procedure, so far. So I feel the urge to share my experiences as a sign of gratitude and a prayer for continued grace.
Warning: This is not a medical opinion if you have medical concerns, consult a medical doctor. Here are my tips for healthy living:
First, find a hospital around you and get basic medical checks like ECG, liver and kidney function, cholesterol, blood sugar and full blood count tests done once a year. It cost between 20 to 50 thousand naira, depending on location and insurance status. I get my medical checks at Echoscan lab in Abuja for the past 14 years. A culture of annual medical checks is a major plank in managing your health.
The second is exercise. From age 30 or earlier it is recommended that you get 150 minutes of moderate exercise every week or 75 minutes of vigorous exercise and 75 minutes of moderate exercise. It translates to about 20 to 25 minutes of brisk walking every day. For Africans, I encourage you to vigorously exercise such that you hit a heart rate of 220 minus your age. In my case, I engage in vigorous exercise to reach 169 heart rate ( I hit 175 mostly doing high-intensity short runs). Multivitamins help in supplying the body with nutrients. Invest in them.
The third is the ownership of basic test kits. As soon as you can afford them and note your family medical history, it is important you own blood pressure monitor and blood sugar test kit from age 40.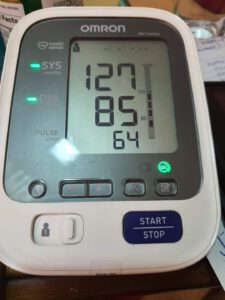 I have attached samples and prices from Jumia and my results taken this morning. I check blood pressure and fasting blood sugar regularly since my 40th birthday. I have a family history of HBP and diabetes.
Fourth, is mindfulness. Keep yourself calm and in tune with nature and your environment. Drink alcohol in moderation. Eat fruits at its season. Eat vegetables and be careful with heavy starch and carbohydrates as our lifestyle today does not allow for burning carbs.
Our local diet is fit for an agrarian society with heavy carbs burnt during farming. We need to eat more grains, vegetables and fruits. Diet is key. The cosmos is guided by laws, observe them. What you sow is what you reap is a fundamental rule of nature. If you sow a healthy lifestyle, you will reap a healthy life.
Why bother with all of these? It is not to avoid death. It is to live actively, consciously and healthily while alive. See that you are truly alive and take personal responsibility for your well-being. At least that is within your sphere of control.
I wish you success, on your chosen path.
• Chidoka is a fitness enthusiast and former Aviation Minister.