"I think it will be to your interest and the interest of Nigerians that every means that will help make it easier for voters of all class to easily identify whom they are voting for is employed."
By Ife Osemedua
365Daily – Ahead of the 2023 presidential election, a Nigerian clergyman, Reverend Father Kelvin Ugwu, has called on the Independent National Electoral Commission (INEC) to consider the inclusion of photographs of the 2023 presidential candidates on the ballot paper as a way of guiding the electorate to cast their votes accurately.
Ugwu, a Nigerian priest working in Malawi, made this call after a photo sample of the Malawian ballot paper that bore the images of the candidates, logo and names of individual political parties that participated in the election in that African country emerged on the internet in Nigeria.
Currently, INEC's ballot papers only carry the logo designs of political parties and that, according to many political observers, make voting difficult for many electorate who may not be conversant with such images, thus leading to confusion at the point of voting for their preferred candidates.
Resolving this challenge ahead of the coming general elections, in Ugwu's estimation, would add value to the Nigeria's electoral processes and records.
Reverend Ugwu went further to design a sample of the proposed ballot paper showing the photos of the presidential candidates and wrote: "Dear INEC Nigeria,
I think something like this can be achieved in 2023 presidential election. The ballot paper can still carry the face and names of each candidate, the party logo, and the space for thumbprint.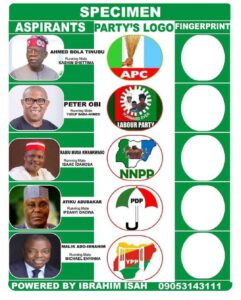 "I think it will be to your interest and the interest of Nigerians that every means that will help make it easier for voters of all class to easily identify whom they are voting for is employed.
"I trust that 2023 election will be free and fair. I trust that you will look into my request with kind consideration. Thank you and may God bless you with wisdom as you carry out this great task of making it easier for the masses to elect their preferred candidate in 2023. Amen!"