By Pastor Josiah Kehinde
"Joshua said to the Israelites, Come near, hear the words of the Lord your God. Joshua said, Hereby you shall know that the living God is among you and that He will surely drive out from before you the Canaanites, Hittites, Hivites, Perizzites, Girgashites, Amorites, and Jebusites. Behold, the ark of the covenant of the Lord of all the earth is passing over before you into the Jordan! So now take twelve men from the tribes of Israel, one from each tribe. When the soles of the feet of the priests who bear the ark of the Lord of all the earth shall rest in the Jordan, the waters of the Jordan coming down from above shall be cut off and they shall stand in one heap. So when the people set out from their tents to pass over the Jordan, with the priests bearing the ark of the covenant before the people, And when those who bore the ark had come to the Jordan and the feet of the priests bearing the ark were in the brink of the water—for the Jordan overflows all its banks throughout the time of harvest— Then the waters which came down from above stood and rose up in a heap far off, at Adam, the city that is beside Zarethan; and those flowing down toward the Sea of the Arabah, the Salt [Dead] Sea, were wholly cut off. And the people passed over opposite Jericho. And while all Israel passed over on dry ground, the priests who bore the ark of the covenant of the Lord stood firm on dry ground in the midst of the Jordan, until all the nation finished passing over the Jordan." Joshua 3:9-17 The Amplified Bible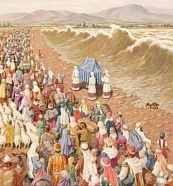 Brethren, when Joshua and the Israelites came to the Jordan River, there was no way for them to get across. God told Joshua to have the priests who were carrying the Ark of the Covenant step into the river; then the waters of the Jordan would part.
At this point, the priests did not imagine nor said unto Joshua "what if the water does not part?"
Their obedience to divine instructions was effectively demonstrated, and they dared to step into the unknown, and in that moment, the water upstream began piling up.
Often times we might be saying "God when you part the river, then I will go." But divine instructions says "Go, and I will part the river."
Beloved, God purposefully puts us in situations where it looks impossible. When you do not see how it can work out or where the funds are coming from, when every thought tells you to play it safe.
If only you will take a bold step into the unknown, along the way you will see miracles, doors will open that you could not open of your own accord, and the right people will show up.
As you step into the waters with all faith, then your River Jordan will give way. Shalom.
I pray that the Lord will increase your faith, strengthen you to step into the water and part your River Jordan in Jesus name Amen.
Every power saying you will not find your feet in the land of the living, I pray that such powers be disgrace by the finger of God, in Jesus name, Amen.
I pray that the Holy Ghost will arise and overshadow your life and strengthen you for unprecedented breakthroughs in Jesus name Amen.
• Pastor Josiah KGS. GPPM
+234-805-551-6088
pastorjosiahkehinde@gmail.com